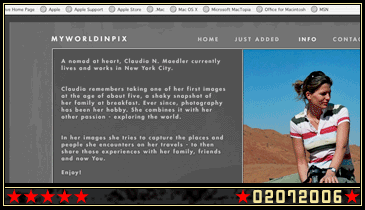 Iron-Cow Prod. has been handling a lot of web design assignments lately. The following have now been added to the ICP Design Portfolio:
-MyWorldinPix – The online portfolio of photographer Claudia Maedler.
-Airmax Animated – The online portfolio of toy customizer Pierre Kalenzaga (aka Airmax).
-Littleplasticmen – Updated corporate identity and promotion elements.
Check on the photo above to check out the latest pieces.
Thanks again! As always, I would appreciate any feedback you might have.