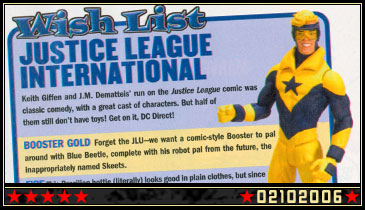 For my third contribution to ToyFare's WISH LIST action figure feature, I was asked to create a DC Direct-styled Booster Gold action figure.
Also, just a reminder: the INTERNATIONAL TOY FAIR begins this weekend here in New York. There should be a lot of ICP professional toy designs getting displayed for the first time. Keep an eye out both here at Iron-Cow Prod. and at MILLIONAIRE PLAYBOY for coverage of TOY FAIR 2006.
Thanks again! Let me know what you think!