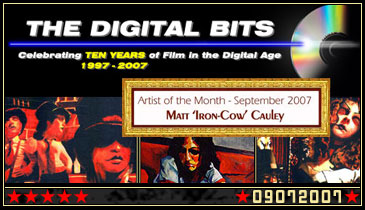 The Digital Bits is one of the most respected DVD sites on the Internet. Site editors Bill Hunt and Todd Doogan have helped to shape the DVD format since its debut in early 1997. The site serves over 12 million pages a month to its readers, who include a Who's Who of the film and entertainment industry.
With that in mind, it is with great pride that I would like to announce I am the featured artist in their Artist of the Month spotlight. Some of the paintings you may have already seen here on ICP, but there are a few never before seen pieces up there as well!
Check either HERE or the photo above for more details.
I hope everyone is doing well. As always, I would appreciate any feedback you might have.