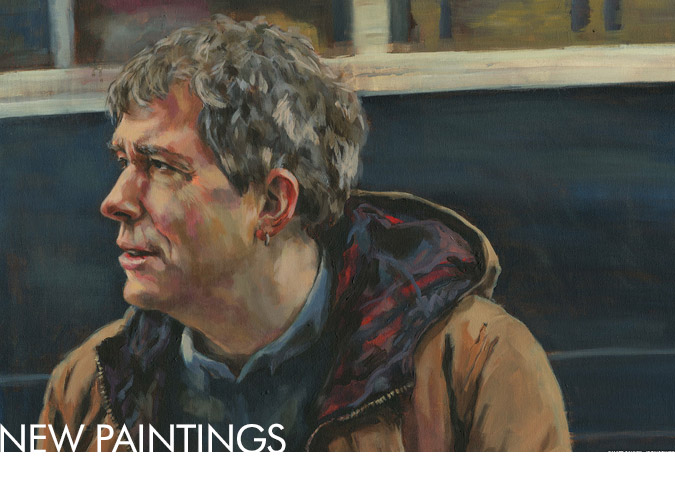 Hello everyone –
I have spent the past year focusing increasingly on my painting creations, experimenting with two new painting series. Water and Raw Sienna.
Water is vital for life. Water is in continuous motion. Water cycles through evaporation, condensation, precipitation. Water heals. Water… erodes. Water is an experimental series of paintings. The human narrative is still there, but the subjects are now interconnected with this additional elemental force. As paint is applied to the canvas, the water will deteriorate that same paint and wash it away. Colors bleed, the subjects are obscured, and the water brings an extension of emotion. As with all my works, I ask the viewer to bring their own interpretation to each painting, and create a new and unique story each time the work is viewed.

The Raw Sienna series has no determined boundary. What happened outside of the canvas is equally as important as what is depicted within. The viewer is engaged to bring their own thoughts on environment and setting and to the painting. Each viewer will supply their own narrative to the works, whether viewing an individual painting or the implied interaction between works on display.
There are also a few new Big Heads and Miscellaneous paintings added in as well. In total, 24 new paintings have now been added to the site, and can be viewed in the Paintings gallery.
As always, I would be grateful for any feedback you might have.
Thank you!
Matt Cauley
May 25, 2015
Don't forget to follow the Artwork of Matt Cauley so that you receive the latest news and events, as well as behind-the-scenes painting progress. Follow us on Facebook, Instagram, Saatchi, LinkedIn, Behance, or Twitter.