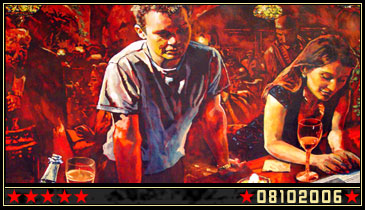 Iron-Cow Prod. was recently commissioned to produce a wedding portrait for a couple in the Tri-State area. After the initial client meeting, I expressed to them that I would be interested in pursuing a non-traditional approach to their piece, which they were all too happy with. They had followed my artwork for a few years now, and had wanted an original artwork to cherish for decades to come.
The piece itself measures 30×40 inches and is acrylic painted on canvas. The wedding reception was spectacular, with the painting proudly on display at The Venetian. I began work on the painting over Memorial Day weekend and wrapped it up the morning of the wedding itself. That was definitely a quick turnaround time, but I'm really pleased with the results. The couple loved it, and it now is on permanent display in their home.
Please click on the image above for a more detailed veiw, and if you happen to know anyone interested in commissioning original artwork, don't hesitate to contact me.
Thanks again! I hope everyone is doing well.