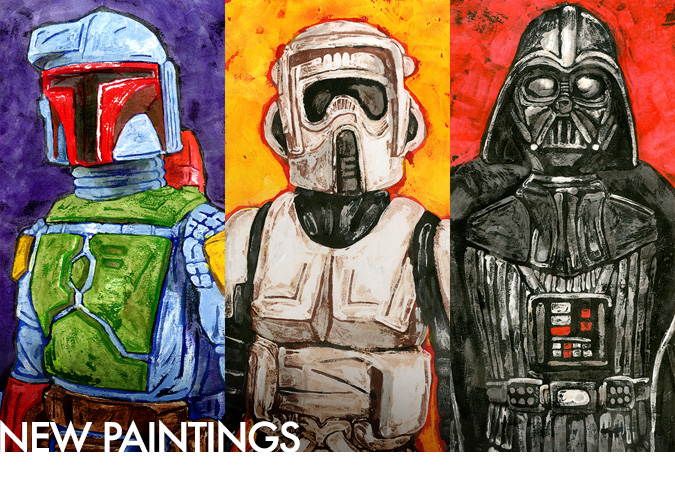 Nostalgia is an important theme to my work, and I am pleased to unveil a new series of images, drawing upon the memories associated with my childhood toys. These action figures were integral to my formative years, and I proudly have them on display all these years later.

They are not only a collection, but they are a direct link to my childhood. My history in figure form.

Childhood Revisited explores the toys I had as a youth.
I am pleased to unveil seven new paintings to this ongoing series. Click HERE to explore the new works and reconnect with some old friends.
For those that are interested, Museum-quality archival prints are available for purchase at the Iron-Cow Prod. Etsy Store.
In addition, I am proud to announce I have partnered with PROJECT WISH UPON A STAR for their FANNIVERSARY! event, happening TODAY! I am premiering my Childhood Revisited paintings all throughout the West Coast. A portion of the proceeds of each sale go to PWUAS.org, a 501c3 Children's Charity offering patient programs such as STEM, ART and other positive reinforcement projects they perform as part of their ongoing efforts to help child patients in need.
To learn more about the FANNIVERSARY! event, please visit Project Wish Upon a Star.
My heartfelt thanks to you all for your continued support. As always, I would be grateful for any feedback you might have. Thank you!
Matt Cauley
May 25, 2018
Don't forget to follow the Artwork of Matt Cauley so that you receive the latest news and events, as well as behind-the-scenes painting progress. Follow us on Facebook, Instagram, Saatchi, LinkedIn, Behance, or Twitter.