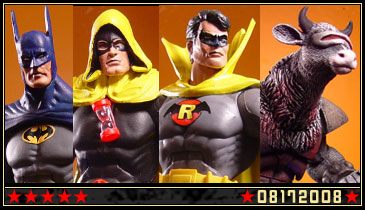 Hello everyone!
I've got not one, but two fun updates this time around! First off, Action Figure Insider recently held a "DC Universe Classics" customizing showcase, featuring the works of several customizers who created pieces based off the popular Mattel action figure line. I myself had three pieces on display:
Detective Batman
Golden Age Hourman
Earth-2 Robin
To see these latest customs, please click HERE.
But that's not all! Even more fun is this great Iron-Cow custom I received in the mail yesterday from fellow customizer evanjones1! The folks over at the Toy Soup Forums recently held a "Create My Custom" contest, where customizers were asked to create custom figures based of the online handles and personas of real forum members. Evanjones1 chose to make an Elseworlds version of Iron-Cow for the project. Click HERE to check out Evan's custom, shown in the ICP Fan Art section. Thanks again, Evan!
I hope everyone's been doing well. As always, I appreciate any feedback you might have!