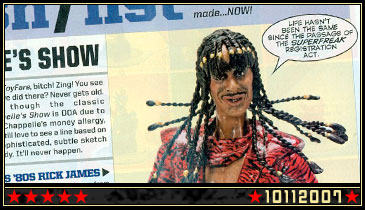 Iron-Cow Prod. was recently commissioned by ToyFare Magazine to to produce a custom action figure based on the infamous Rick James sketch featured on Comedy Central's Chappelle's Show. The custom can be seen in their latest issue (ToyFare #123), so be sure to check it out at your local comic shop or book store.
As an added bonus, the custom is also featured on the official Wizard Entertainment website.
And as always, I would appreciate any feedback you might have.
Thanks again! I hope everyone is doing well.