Hey everyone!
I am pleased to announce a new artshow featuring 10 of my original paintings!
BIG HEADS – The Portaits of Matt Cauley is now on display at the Potion Cafe through the month of March. Consider yourself cordially invited to the opening reception on Saturday, March 14, from 7pm until 9pm. We're still working out the details of it, but there will be wine a'flowing…
Potion Cafe is located at 248 McKibbin Street in Brooklyn. If travelling by subway, hop off at either the Montrose or Morgan stops. Click HERE for a detailed map of the area.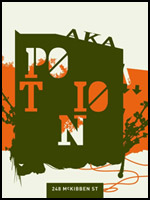 If you have any questions or would like more information, simply drop me a line here. As always, I would be grateful for any feedback you might have!