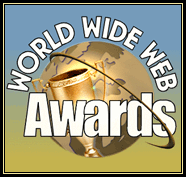 Iron-Cow Productions has just won the SILVER AWARD from the WORLD WIDE WEB AWARDS Association for Outstanding Web Design, Content and Navigation. I would like to thank the judges for recognizing ICP with this award.
For a list of additional Iron-Cow Prod. awards received, please click HERE.
Thanks again to everyone for their support! Look for another update just around the corner!