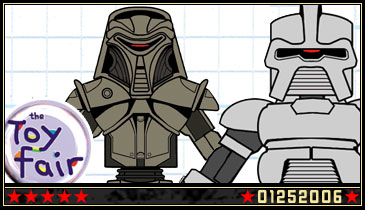 The secret is out! For several months now, Iron-Cow Prod. has been hard at work, teaming up with Art Asylum to help create the official BATTLESTAR GALACTICA Minimates line!
To see a sneak-peek of this line, be sure to check out ACTION-FIGURE's coverage of the 2006 UK Toy Fair.
Though there are only a few pieces shown (ICP designed both the retro and modern Cylons, and is in the process of reworking the Cylon Raider), there will be more items featured next month at the INTERNATIONAL TOY FAIR here in New York. LOTS more!
I'm on Cloud 9 at the moment! As always, I would appreciate any feedback you might have.