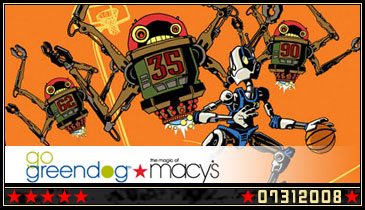 I've been receiving a lot of emails lately from visitors wondering when I was going to be updating the site again, as it's been a bit quiet on the updates-front these past few months. The truth is, several exciting things have been happening here behind the scenes at Iron-Cow Prod. and it's been a whirlwind year of new projects and new challenges.
With that in mind, I am happy to announce that for the past year, I've been designing graphic tees for a certain major retailer. That's right! You can now find ICP-designed T-shirts exclusively at your local Macy's!
Well, hopefully. Truth be told, these shirts actually hit the racks a few months ago, but I learned about their release only recently. The good news is that they were a huge hit and sold out almost immediately! The bad news is…well, good luck finding them, as they were popular sellers.
Still, the tees are still available at certain Macy's around the country, though. Be sure to look for them in the "Greendog" and "Epic Threads" sections on the Macy's salesfloor. This is just the first wave, so keep your eyes peeled for many more original Iron-Cow-designed graphic tees headed your way soon!
To see all of the initial designs, click the image above. As always, I appreciate any feedback you might have!