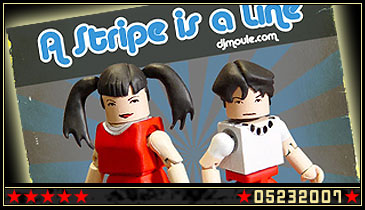 Recently, good friend and great customizer Joshua contacted me to alert me to a possible copyright infringement. As it turns out, the French musician DJ Moule had used one of photos on his latest release without the expressed permission of ICP. While my intial reaction was "How dare he!" I had to admit I was both flattered and really happy with the CD cover. Plus, I wanted one for myself!
Luckily, everything worked out in the end. If you'd like to see the full cover, I have included it in the ICP Fan Art section. Also, to hear the release "A Stripe Is A Line" by DJ Moule, click HERE and look for it under the BOOTLEG section of his site.
Thanks again to Joshua for the eagle-eyed catch!