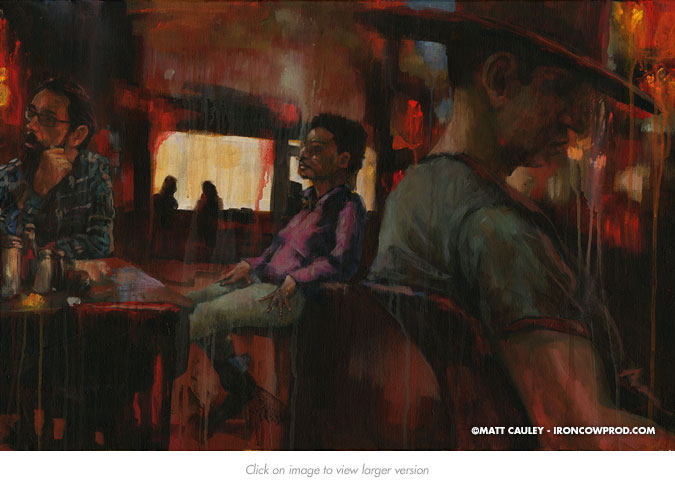 Water is vital for life. Water is in continuous motion. Water cycles through evaporation, condensation, precipitation. Water heals. Water… erodes.
Water is an experimental series of paintings. The human narrative is still there, but the subjects are now interconnected with this additional elemental force. As paint is applied to the canvas, the water will deteriorate that same paint and wash it away. Colors bleed, the subjects are obscured, and the water brings an extension of emotion. As with all my works, I ask the viewer to bring their own interpretation to each painting, and create a new and unique story each time the work is viewed.
Alibi was inspired by the tv show Justified. I had seen some amazing promotional art for the series and was a fan of the show. Plus, being a Texas native, who doesn't love a good dive bar?
I was working again with the same models I had used in my Shelter image. For some reason, I got the sense these two models simply didn't like each other. While there was obvious tension in person, it certainly added a fun dynamic to the painting itself.
The person on the far left was a late addition, painted in recently. He helped balance out the piece, and give a bit more story to the narrative.
Alibi
Acrylic on canvas
20 x 30 inches
Painted 2014 by Matt Cauley
See below for a full gallery of the In-Progress Painting: