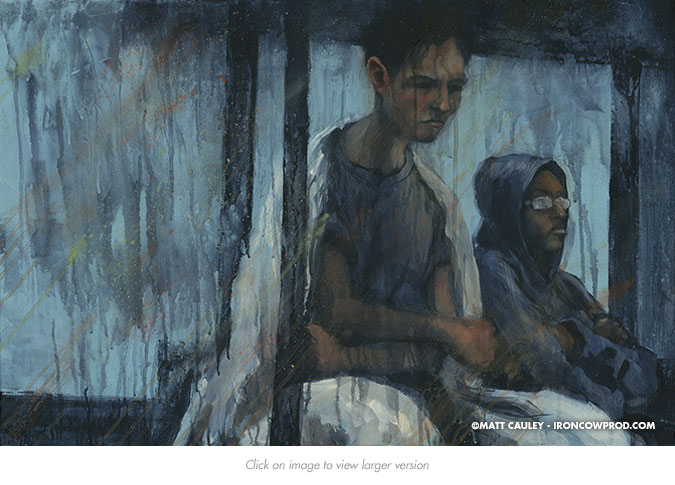 Water is vital for life. Water is in continuous motion. Water cycles through evaporation, condensation, precipitation. Water heals. Water… erodes.
Water is an experimental series of paintings. The human narrative is still there, but the subjects are now interconnected with this additional elemental force. As paint is applied to the canvas, the water will deteriorate that same paint and wash it away. Colors bleed, the subjects are obscured, and the water brings an extension of emotion. As with all my works, I ask the viewer to bring their own interpretation to each painting, and create a new and unique story each time the work is viewed.
The third painting in the Water series is where the concept truly began to come together. While I was exploring unchartered territory (for me) with the first two paintings, this image came together fairly deliberately. There was an interesting dynamic between the models that day; neither seemed to care much for the other person, and there was definite tension in the air. I decided to play into that, and I feel it comes through in the final piece.
Whether they're waiting in a bus shelter, or riding out the nuclear apocalypse is ultimately up to the viewer. Whatever is going on between these two, though, certainly is uncomfortable at best.
Shelter
Acrylic on canvas
20 x 30 inches
Painted 2014 by Matt Cauley
See below for a full gallery of the In-Progress Painting: