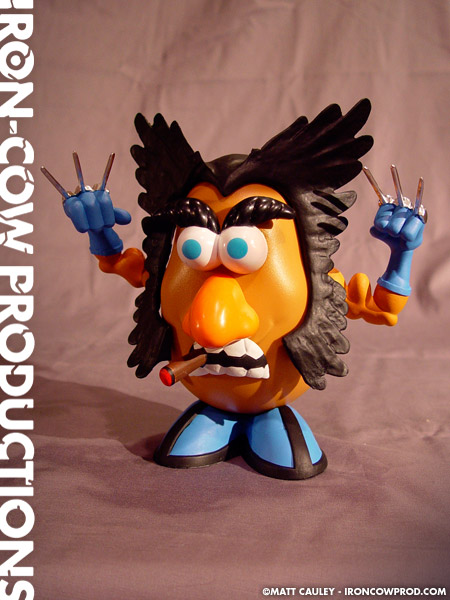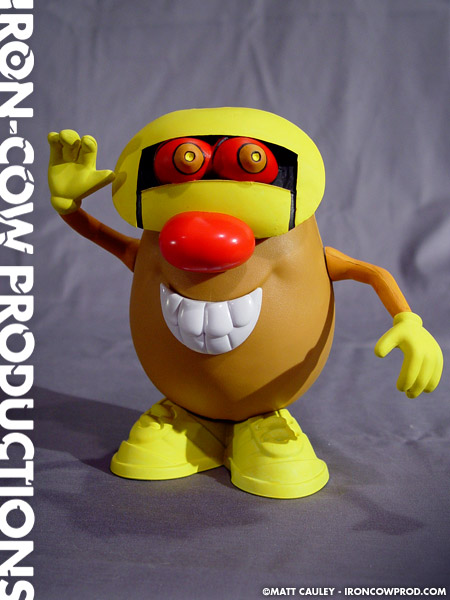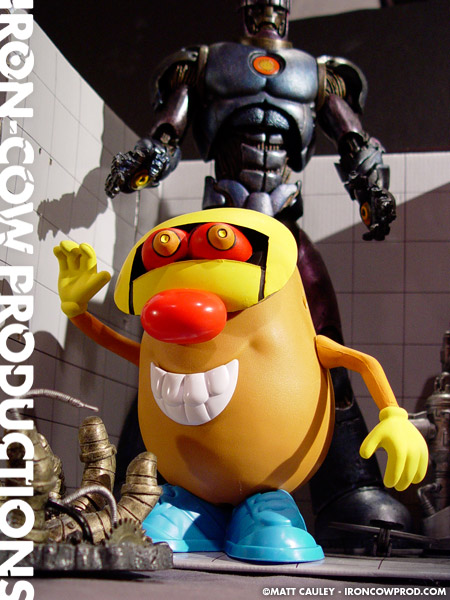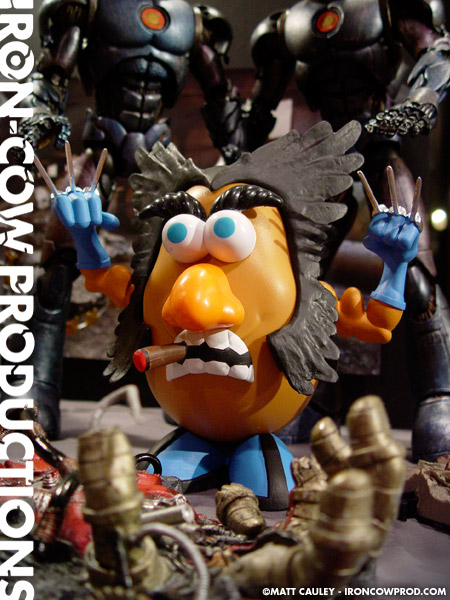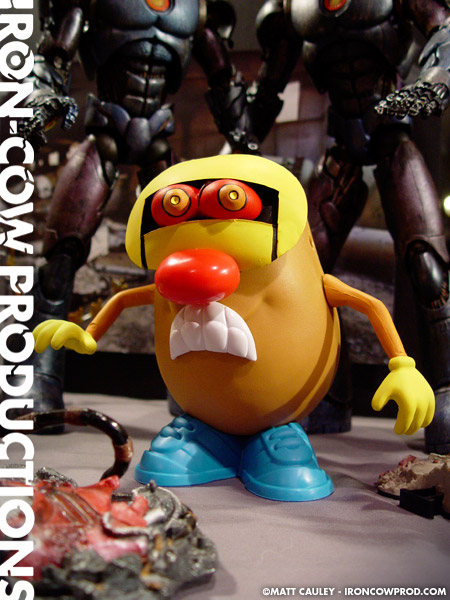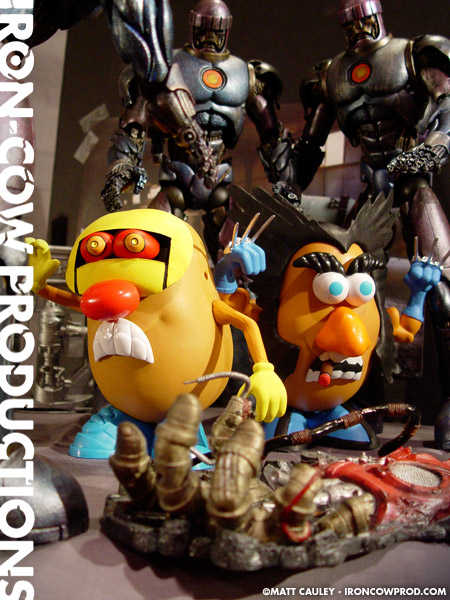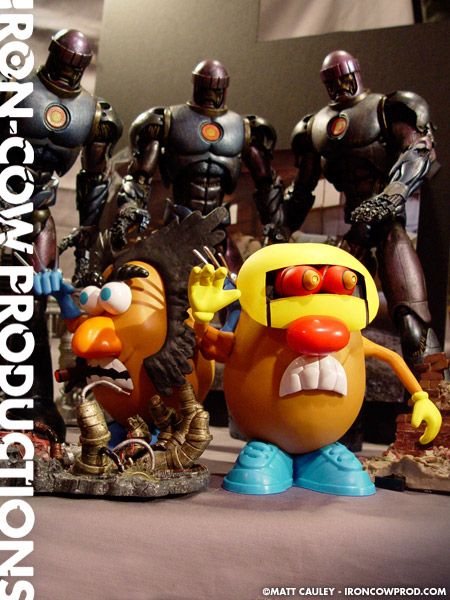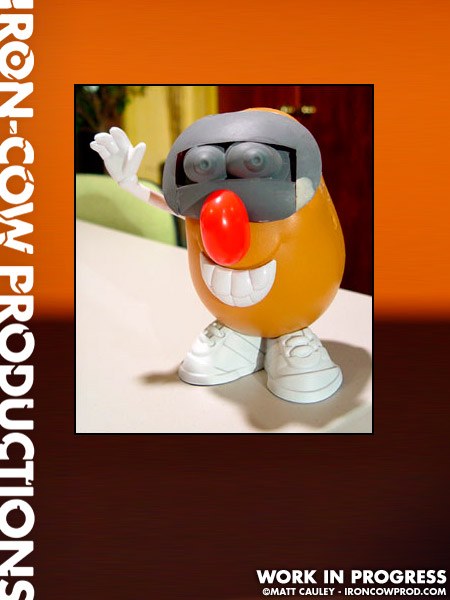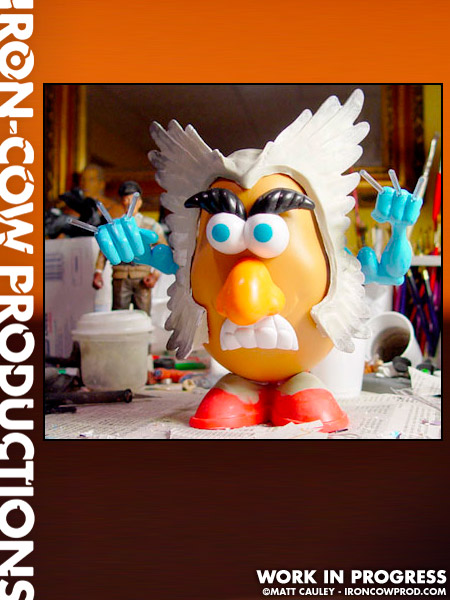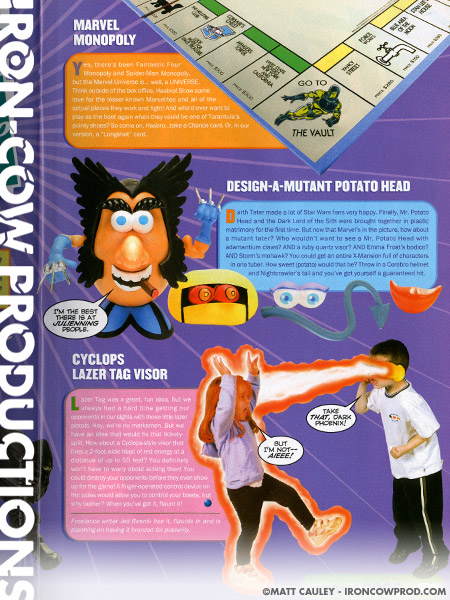 You've just gotta love the spuds! For generations, no childhood has been complete without some face time with the MR. POTATO HEAD Family. These changeable friends have staying power for a reason: they respond to that fundamental desire to be creative. Each character comes with a choice of stick-on facial features, conveniently stored in a back pocket.

It's up to you whether MR. POTATO HEAD or the Mrs. is feeling happy, sad, silly or outright goofy (Is that a NOSE on top of your head?!!).

– from the official Hasbro Website.
For my next contribution to ToyFare Magazine, I was asked to create an X-Men themed Mr. Potato Head figure, largely inspired by the popular Darth Spud and Spud Trooper Star Wars creations. This was to be featured in their "Make Mine, Hasbro" article, an article on what ToyFare would like to see Hasbro create when they take over the Marvel license in 2007. The original concept was to feature one base spud with multiple accessories to create the various members of the Uncanny X-Men.
After I accidentally sliced up one of the Mr. Potato Head arms to make Wolverine's trademark cigar, I found myself having to purchase an additional Mr. Potato Head set. Rather than let the parts go to waste, I opted to create a second spud, free of charge, so that ToyFare Magazine could display both the Wolverine and Cyclops X-Taters side by side.
Plus, it would be easier on my when it came time to photograph the pieces.
To make the Wolverine X-Tater, I began by reworking existing Mr. Potato Head parts. His cap was a good starting off point for a hair piece, so I wrapped the base spud in cellophane to protect it and began shaping the distinctive Wolverine hair. As luck would have it, I had a few sets of spare wings from a Marvel Legends Angel figure. After much cutting and reshaping, these formed the perfect starting off point for the hair. I reworked the Mr. Potato Head eyes and teeth to give the Wolverine X-Tater a more menacing grimace. Metal spikes were added into the muscle arms to give him the necessary claws, and the surfaces were reworked with Magic Sculpt to smooth the overall surface.
Although he's not all that posable, I had a blast working on the Wolverine X-Tater. I almost kept the piece for myself, but I'm ecstatic with the spread ToyFare ran on him.
Cyclops' visor is made from some leftover Mr Potato Head googly eyes. I attached plastic styrene to these and reshaped the overall surface to fit snug to the spud base. Although I wish I had painted the spud blue, that wouldn't be in the style of any previous Potato Head release. I'm not sure it's the best custom I ever made, but he works well in conjunction with the Wolverine X-Tater.
Created Spring 2006
Featured in TOYFARE MAGAZINE, Issue #108, August 2006