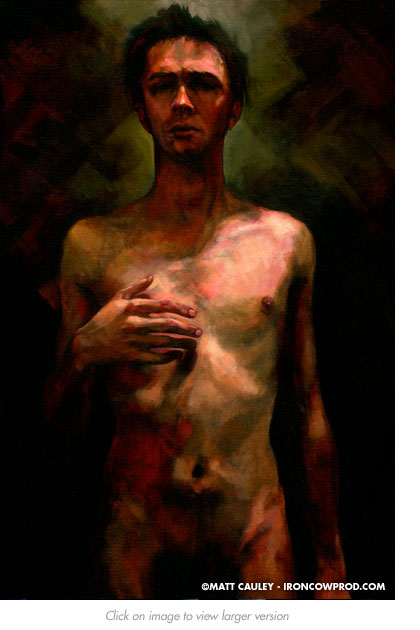 As I was continuing progress on my Big Heads painting series, I happened to make a good friend in fellow painter Diana Schmertz. Not only was Diana a phenomenal painter, she was also the creative force behind PERFECT 8, a publication dedicated to the de-objectification of people. As opposed to the idealized "Perfect 10", PERFECT 8 forms a new expression conveying a sentiment and recognition of the beauty found within the imperfections of people.
Diana had run a series of paintings of the female form in her magazine, but was looking for a male subject as well and asked if I could contribute some artwork. We batted around some ideas, and I eventually settled on this self-portrait, reminiscent of a time when I weighed 30 pounds less and was struggling with body and self-acceptance issues.
In the end, the painting wasn't quite the right fit for the publication, but I remain very proud of it. It is perhaps my most personal painting to date.
Untitled PERFECT8 Magazine Project
Acrylic on canvas
20 x 30 inches
Painted 2009 by Matt Cauley
WINNER: Luke Adams Art Prize 2015: Second Place