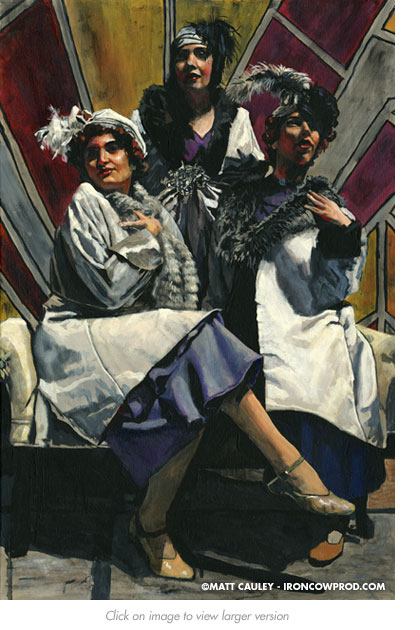 This painting began back in 2008 as part of a "group portrait" assignment I had been working on for The School of Visual Arts. My friend Crystal had a role in the Ritz Theatre production of Thoroughly Modern Millie, and I felt she and her fellow castmates would make for interesting subjects.
Reference photographs were quickly taken after a performance. I had to work against the clock, because the stage hands were waiting to strike the stage. Still, I got the shots I needed and later created the painting back in the studio.
And there it sat for over three years waiting to be finished.
I'm not sure why it took me so long to get around to wrapping up the painting. In the end, I took it out of storage and looking at it with fresh eyes decided the piece was finished after all. Sure, there are elements I could tweak here and there, but I felt it might become overworked at that point.
Special thanks to Crystal, Jaime, and Dawn for helping me out with this project.
Thoroughly Modern
Acrylic on canvas
20 x 30 inches
Painted 2008 by Matt Cauley