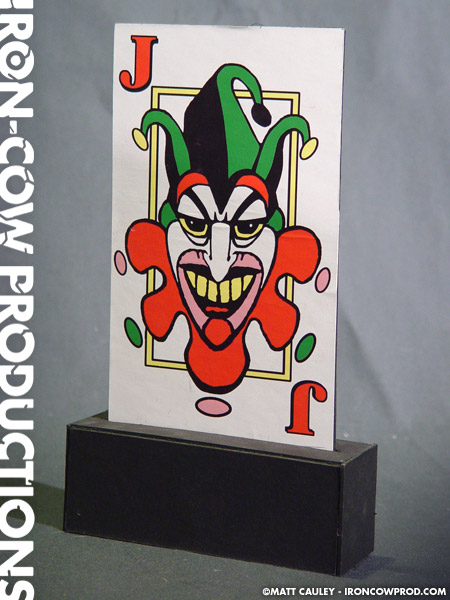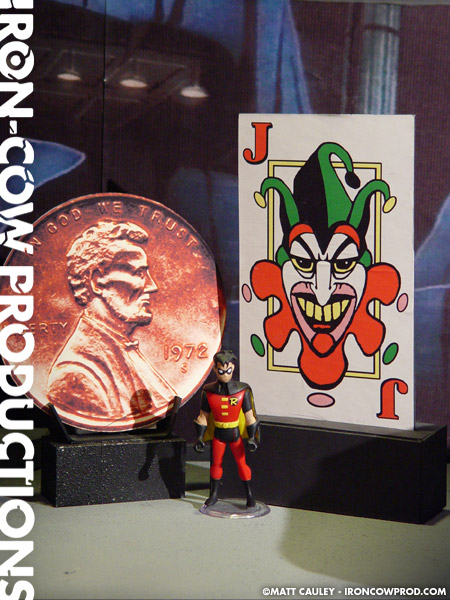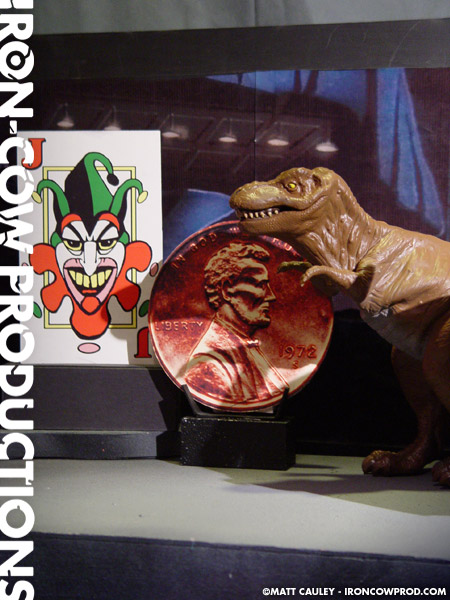 This project provides a nice backdrop and gives your Batcave a little more color.
Note: As with any ICP download, these files are not to be resold under any conditions.
First, download and print the image, printing it twice if you want the image on both sides of the card. The files are fairly large, so be patient as they might take awhile to download.
Carefully use an X-Acto knife to trim the images from the surrounding paper. The final image size should be 4 3/4 x 7 3/4.
Spray mount one side of the card to oversized Black-Core illustration board. This will provide a nice, crisp black edge along the side of the card, as well as supply the materials to make the base support.
Once the card is mounted, trim to fit along the top and sides, leaving an additional 1 7/8″ of extra space at the bottom! This is VERY important, as it will be inserted into the base support. Next you should mount the backside of the card.
The base gets a little tricky, but just keep referring to that photo. You basically make a box out of the Black-core illustration board to form the base for the card.
The dimensions of the base are:
5 1/2″ Wide X 2″ tall X 1 3/4″ deep. I cut a 1/8 slit in the middle to slide the card into.
If you do end up using these files for any of your projects, be sure to drop me a line. I'd love to see how it turned out.
Created Fall 1999
For easier saving, right-click and select either "Save Linked File" or "Open Link in a New Window"