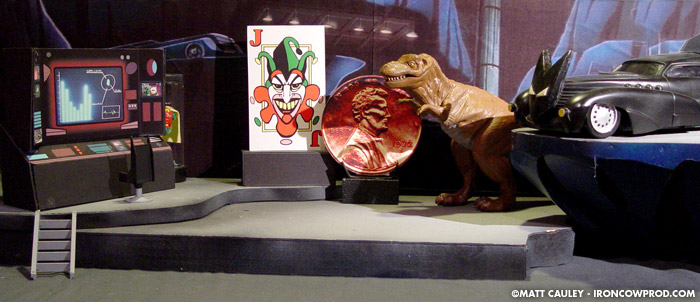 Batman just wouldn't be Batman without his Batcave to hide out in. This project came about when I found myself with an extra shelf that was too small to contain any clothes, but would actually work as a great display area for my action figures.
The Batcave playset measures 4 feet wide by 12 inches deep. The base is made out of wood and can separate into smaller components if necessary. This feature came in very handy when I moved to a new home and found myself with a slightly smaller display area. The background image was a screengrab from "Batman: Sub-Zero" which I then brought into Photoshop to manipulate. The final print is roughly 16 inches tall and runs the length of the playset. Finally, the addition of a T-Rex I found at Toys R' Us completes the Batcave.
Though most of the time I have closer to 100 figures inhabiting the Batcave, it still makes for a fun display piece.
Created Fall 1998
Featured in The Sexy Armpit: Interview with Iron-Cow Productions' Matt Cauley