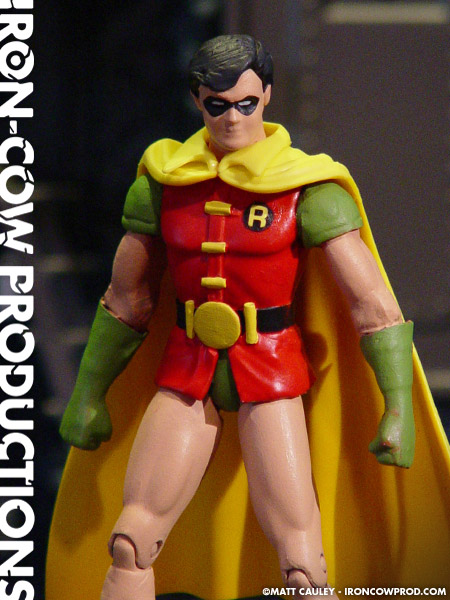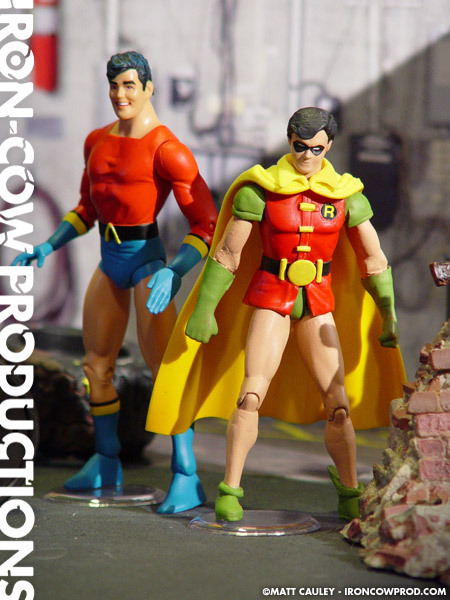 Classic Robin starts with a Kid Flash ("Baby Flash") figure as a base. This is the one that came with the Barry Allen Flash 2-Pack from DC Direct. The Golden Age Hourman lended him a slightly shortened cape. And that red area below his belt? That's the trimmed material from Dr. Mid-Nite, leftover from when I was making my Classic Cyclops custom.
Styrene was used for the seam in front, as well as the shirt buckles. Clear vinyl creates the gloves and Kneadatite gives the finishing touches on the shoes, knees, and hair.
Though at first I wasn't a huge fan of this costume design, I have come to respect its place in classic Bats history. Sure it wouldn't work for 'the real world', but that's not the point. It looks fun standing on the shelf, especially next to my Neal Adams Batman.
Created Spring 2002