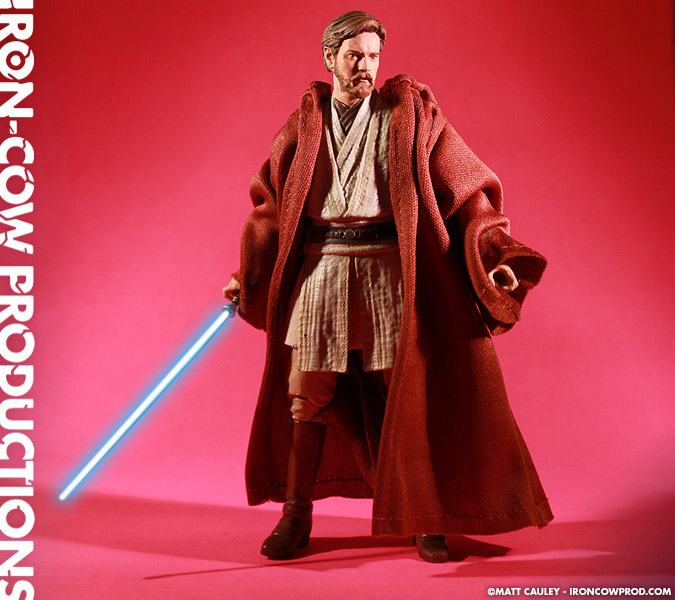 Although the Star Wars Prequels have their flaws, the casting of Ewan McGregor as Obi-Wan Kenobi was definitely inspired. His portrayal of the Jedi Master was far and away the highlight of the films, and I hope the rumors of a new Obi-Wan film trilogy prove true some day.
Similarly, Hasbro's Star Wars Black Series figure line is not without its issues. For every brilliant action figure they release, there might be one or two figures with some unfortunate quality control issues. The Prequel Obi-Wan Kenobi figure was one of these. Although the body sculpt was generally nice, the head was undersized and shipped with a mediocre paint job. In addition, the Obi-Wan figure was missing his trademark Jedi robes.
Luckily some friends online pointed me to some options on how to improve ol' Obi-Wan. First, I went over to Glassman Customs' online store. He had taken the Obi-Wan head and using Hydrospan, scaled it up to a proper fit. As of this writing, Glassman offers casts of this properly-sized head which you can order by clicking HERE. As it turns out, Hasbro produced a great sculpt! It was just too small and the paint obscured many of the nice details. Luckily Glassman's version salvages this sculpt.
There are a few sellers on eBay who offer robes for your Star Wars Black Series Jedi figures. I forget which seller I bought mine from, but it was a bit oversized and ill-fitting, to be honest. I had to adjust the sleeve lengths and use some creative gluing to get the proper shape. Once done, though… wow. What a difference! Check around. You may find a better fitting robe as more and more sellers seem to be offering them lately.
It's unfortunate that Hasbro didn't go the extra mile initially on their Obi-Wan release. All the elements were there; the figure just needed a better head and robe to pull it all together. Luckily, it's not that difficult a project should you want to upgrade your own.
Created Fall 2014
See below for a full gallery of the Obi-Wan Kenobi Black Series figure.