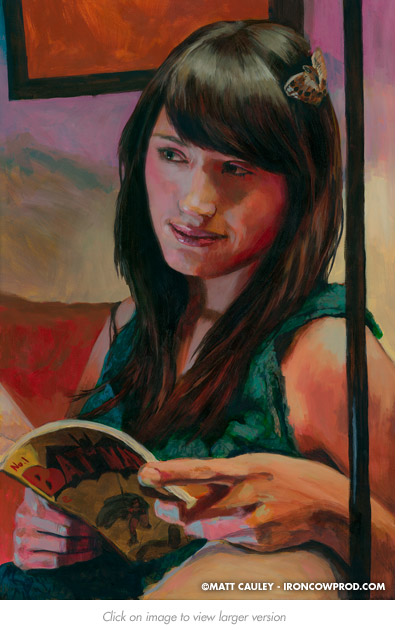 The Big Heads portrait series focuses on capturing a moment in time for any particular subject. As I work with the model, I want them to feel as if they are in mid-conversation with me, but have become momentarily distracted by something *just* out of the corner of their eye. The more their focus shifts to some random spot on the wall, the more their imagination then takes over. A relaxed concentration takes over, and their face conveys an appearance of daydream wonder. It is this moment I try to capture on canvas.
The settings are sparse, with the face conveying the bulk of the story. In the end, I hope the viewer brings their own interpretation to each painting, creating a new and unique story each time the work is viewed.
It's interesting… when I first approached Molly about participating in my portrait series, I was certain she was a fairly serious person who would work great in a Wednesday Addams-inspired piece. I never expected her to have such a quirky sense of humor and be so upbeat. That led me to putting the initial concept on hold and proceeding with what you see here. Even still, I wanted to add in an offbeat wallpaper and a Pride and Prejudice poster behind her. In the end, though, even that felt too forced.
I'm very glad it worked out the way it did. Simple is definitely better in this case, and my last-minute addition of a Batman comic added in the quirkiness I was aiming for. Molly was fantastic to work with, and had a lot of enthusiasm for the project. Thanks again, Molly!
Molly
Acrylic on canvas,
20 x 30 inches,
Painted 2012 by Matt Cauley