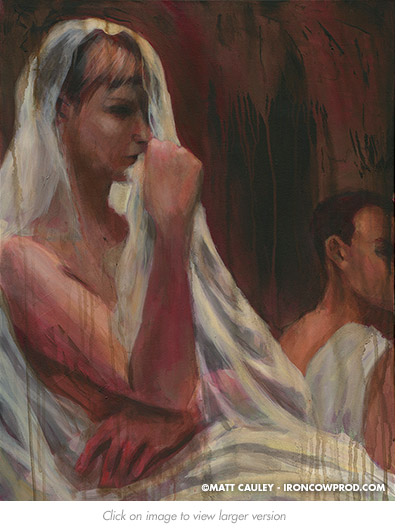 Water is vital for life. Water is in continuous motion. Water cycles through evaporation, condensation, precipitation. Water heals. Water… erodes.
Water is an experimental series of paintings. The human narrative is still there, but the subjects are now interconnected with this additional elemental force. As paint is applied to the canvas, the water will deteriorate that same paint and wash it away. Colors bleed, the subjects are obscured, and the water brings an extension of emotion. As with all my works, I ask the viewer to bring their own interpretation to each painting, and create a new and unique story each time the work is viewed.
With this painting, I began to move further away from traditional portraits. I wanted to explore the more narrative side of painting, focusing less on the eyes and more on the body language. I again had the pleasure of working with the same models as from my Unexpressed piece, although instead of having the figures fully nude, I would drape them with sheer fabric. This would add a transparent barrier between the viewer and the subject, in addition to the layers the water drips would add.
Misgiving
Acrylic on canvas
22 x 28 inches
Painted 2014 by Matt Cauley