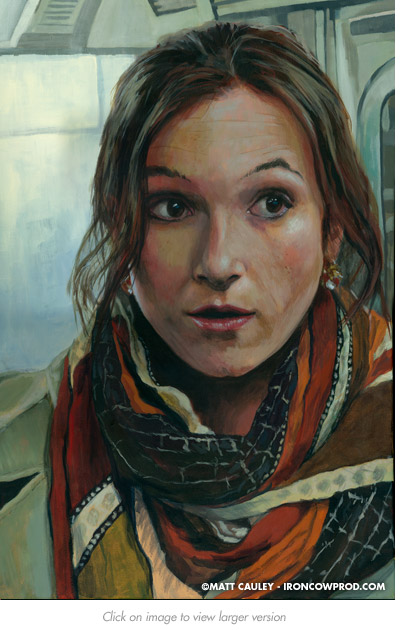 The Big Heads portrait series focuses on capturing a moment in time for any particular subject. As I work with the model, I want them to feel as if they are in mid-conversation with me, but have become momentarily distracted by something *just* out of the corner of their eye. The more their focus shifts to some random spot on the wall, the more their imagination then takes over. A relaxed concentration takes over, and their face conveys an appearance of daydream wonder. It is this moment I try to capture on canvas.
The settings are sparse, with the face conveying the bulk of the story. In the end, I hope the viewer brings their own interpretation to each painting, creating a new and unique story each time the work is viewed.
I had seen Lauren here and there while at work, and for some reason she always seemed to have a mischievous smile on her face, as if she were privy to some joke the rest of us weren't. There was something appealing about that sense of happiness, and that became the inspiration for this painting. We took a ridiculous amount of photos in a variety of locations. I was trying to capture a moment that featured the model with a smirk on her face, surrounded by your typically grumpy New York commuter. We shot along the street at night, near department store windows and the neon of dive bars. And, while I captured enough images for a dozen paintings, it was this one shot of Lauren being caught slightly off-gaurd that called out to me. There was something so natural and whimsical about it and I wanted to see if I could translate it into a painting.
Special thanks to Lauren for helping me out and being so patient with all the shots we took. Hopefully I'll turn some of the other shots into artworks down the road.
Lauren
Acrylic on canvas,
20 x 30 inches,
Painted 2012 by Matt Cauley