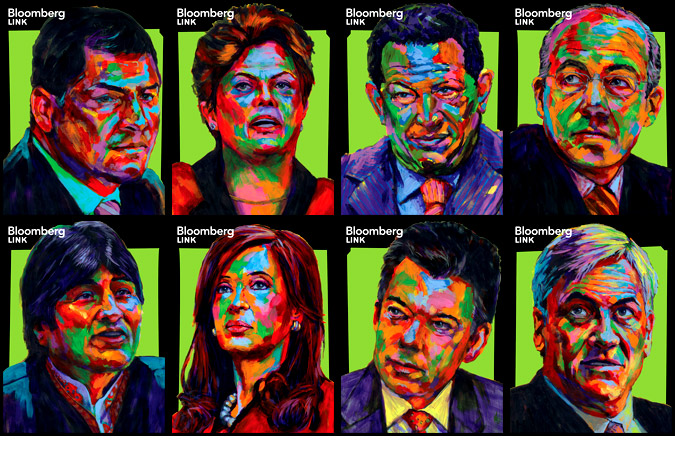 I recently got word of a potentially fun project coming down the pipe. One of the business units at my employer was about to host a major event here in New York City that focused on Latin American Investing. Since the entrance was at a bit of a distance from the actual event area, the client wanted me to create a series of lighthearted caricatures of noteworthy business and political figures that would create a festive mood as people entered the building.
I was able to take on the project and pitched to them various approaches on how to handle the artwork. Luckily, I was able to talk them out of the cartoon route and instead go with expressively vibrant paintings that also matched their corporate palette. The problem was, I also committed to do EIGHT 20″ x 30″ portraits in under a week. By the time I got the full go-ahead, I had 3 days.
What followed was a whirlwird painting session. I began the paintings on Friday, April 20, and finished the final piece early the next Monday morning. Luckily the hard work paid off. The client was so happy with the work for the posters that they paid to have the original artworks framed and hang directly inside the main reception area. On top of that, the artwork was repurposed for public-facing banners on the exterior of the event building. Even better, there are additional events in Rio and Mexico later this year, so the artworks will be on display there as well, and the whole series might evolve beyond this initial Latin America Investing conference.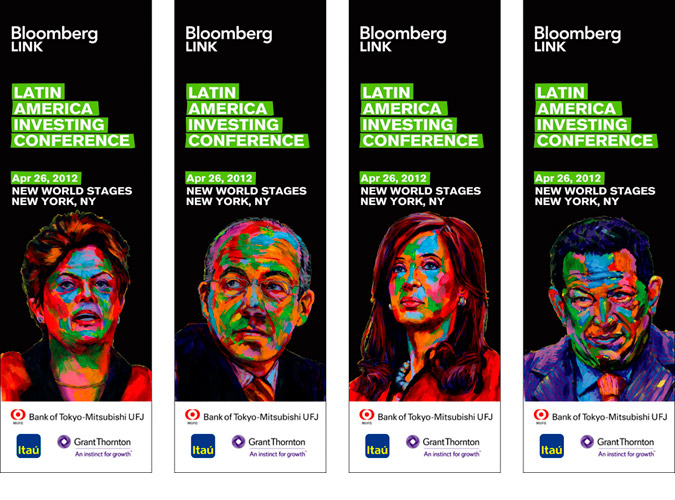 I would like to thank the powers that be at both Bloomberg and Bloomberg Link for allowing me this opportunity and offering their full support at every step of the process.
Special thanks to Nicholas Harris, Gilad Saloman, and Michaela Edwards along with the Bloomberg Photo Library for their assistance with this project. Shown here for portfolio purposes only.
Bloomberg Link Latin America Investing Conference Illustrations
Acrylic on Board, with digital production
20 x 30 inches (original artwork), 20 x 26 inches (poster artwork), 24 x 75 inches (exterior banners)
Created 2012 by Matt 'Iron-Cow' Cauley


See below for a full gallery of the works involved.