Over the years, I've tried to have a lot of fun with promoting the site. Presented here are a few of my favorite images.
Keep checking back, as hopefully this page will continue to grow.

ICP – Promotional Check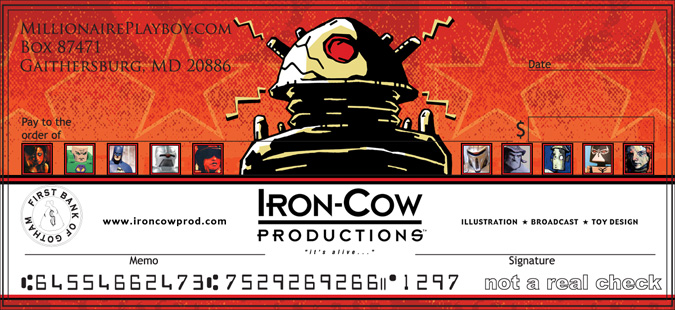 For their Toy Fair 2007 promotion, the guys from
Millionaire Playboy decided to create a promotional checkbook, features different sponsors and such. Above is the Iron-Cow Prod. check. Believe me, that check will BOUNCE if you try and cash it!
To see the rest of the checks in the checkbook, click
HERE!

ICP Playing Card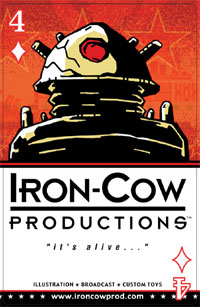 Every year there's a Toy Fair, and every year you can be certain the guys from Millionaire Playboy will be on hand with the best promotional giveaways anywhere!
For the 2006 Toy Fair, the MPb guys decided to produce a deck of cards. Each card showcased either a different sponsor, a toy they had reviewed, or something else related to MPb.
Iron-Cow Prod. helped sponsor the deck, so we were granted a spot on the 4 of Diamonds. To see the rest of the cards in the deck, click HERE!

ICP Certificate of Authenticity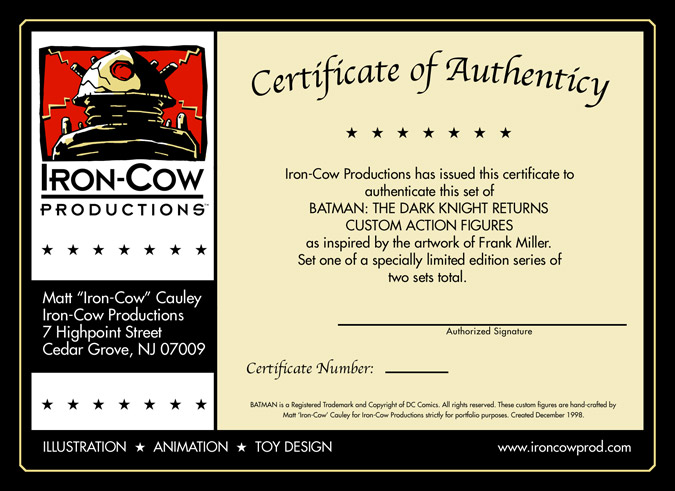 A few years back, a longtime fan of the site contacted me, asking a favor. He had recently acquired the complete, second set of the Batman: The Dark Knight Returns custom figures I had made a few years previous, and was asking if I could generate a Certificate of Authenticity to go with them.
I felt that having a certificate might prove useful in the future, so I was only too happy to oblige. Plus, it felt good knowing the figures would end up in a place where they were appreciated for the effort that went into making them.

ICP presents Doctor Who


This image was created to promote the Iron-Cow Prod. DOCTOR WHO entry in the CustomCon 6 Online Showcase.
This was a fun bit of nostalgia for me, obviously inspired from the classic 1970's Doctor Who logo.
To see the CustomCon 6 entry, click
HERE.

ICP – One Year Old Today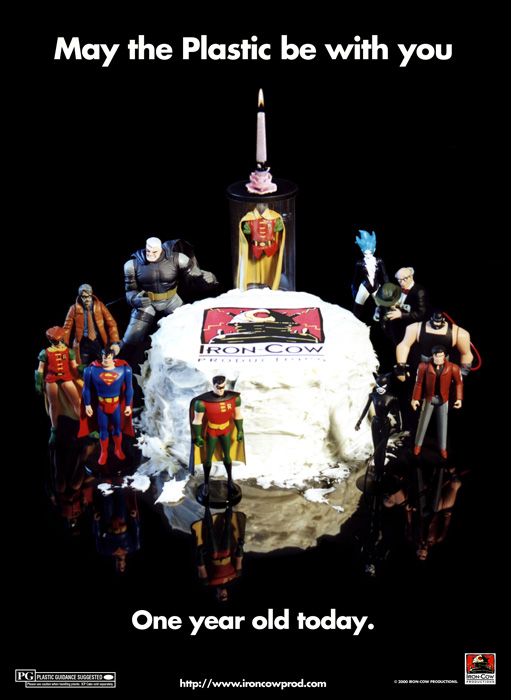 This image was inspired from an old Kenner Toys poster that had celebrated the one year anniversary of the original Star Wars film.
I took inspiration from this, and asked Casimir to take the photograph for the poster I had in mind.

ICP – 3 Years of Customizing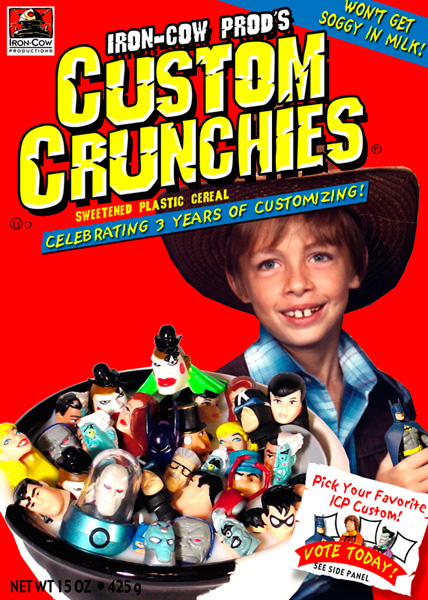 It was that time again: time for another goofy ICP poster image.
As with the ICP Cake poster, I asked Casimir to arrange some photo elements for me to work from, and then I went to town.


ICP – Plastic Propaganda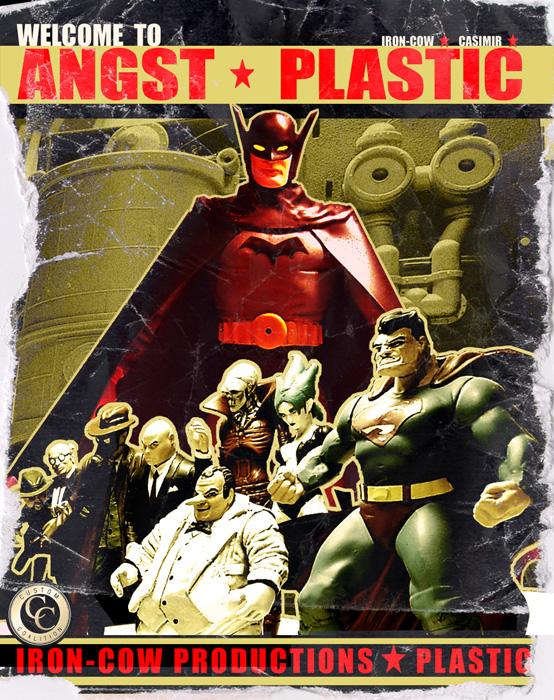 With the launch of a new look for the site, I wanted to create some elements to further enhance the 'art' aspects of Iron-Cow Prod.
In continuing the theme of the propaganda art, I designed the images to appear on each of the main Plastic pages, back when they were separated by Angst, Animated and Misc. categories.
The Angst poster was created using original photos, while the Animated poster recycled one of Casimir's images for the site.
There was a Misc. poster as well, but it never got developed into the full-blown propaganda style I intended.
Guess I got a little lazy on that one.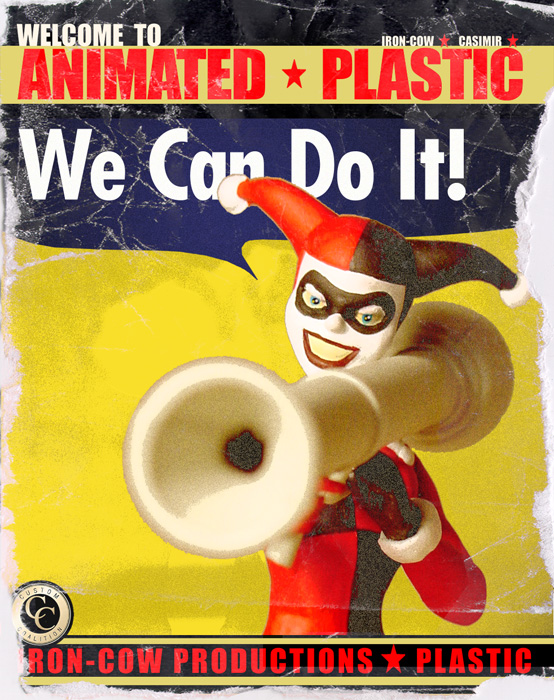 ICP – Plastic Propaganda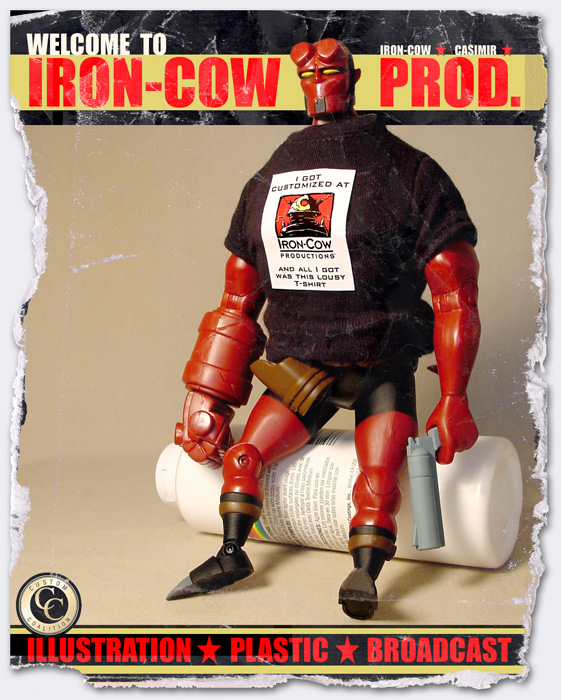 …and here's the aforementioned Misc. poster.
I never did get around to doing a true propaganda styled image, but I really enjoy the concept.
Hellboy's shirt reads "I got customized at Iron-Cow Productions and all I got was this lousy t-shirt".
As with the other posters, I asked Casimir to arrange for a photo based on my concepts. He added the touch of Hellboy lounging on the paint tube. Fun stuff.

ICP – Villains Memorial Action Playset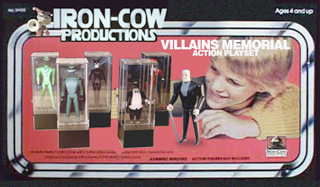 To celebrate the launch of ICP v3 I decided to go a slightly goofier route with the promotional images.
This we created using some spare photos I had, reworked into a classic Star Wars board game.
Dumb, but fun.

ICP – Promotional Cardbacks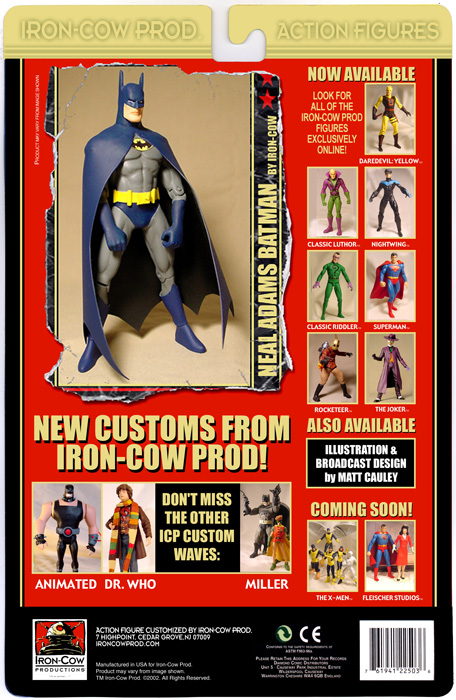 Jesse DeStatio of Millionaire Playboy fame was organizing an art exhibit for the Art Institute of Florida.
His concept focused on the art of the action figure, and he was asking everyone to donate any cardbacks they might have from their opened action figures.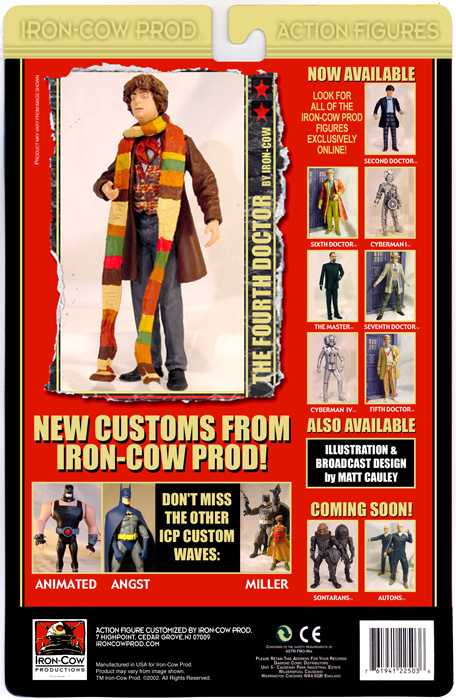 I had a stack to spare, but also decided to create these original designs, inspired by some recent DCDirect offerings.
Mounted on thick illustration board, a couple copies of these hung in the exhibit.
No doubt stolen by hungry ICP art collectors at some point.

ICP – CustomCon 10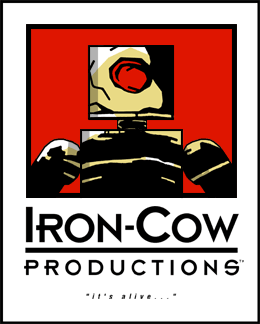 This image is from ICP's entry into the Spring 2004 CustomCon exhibit.
Since my entries consisted entirely of Minimates, I modified my logo to reflect the block figure look of the customs.
Click the HERE to check out the show.