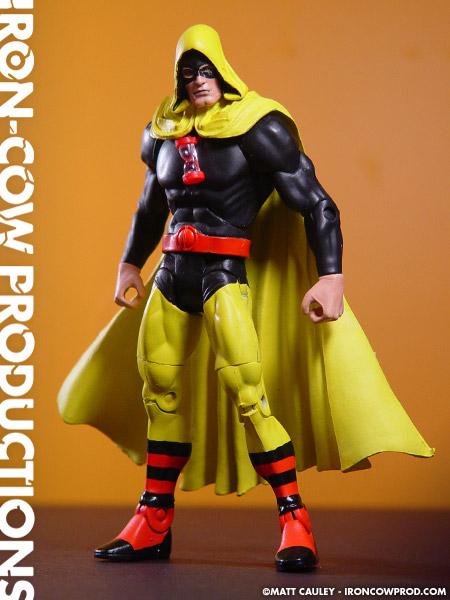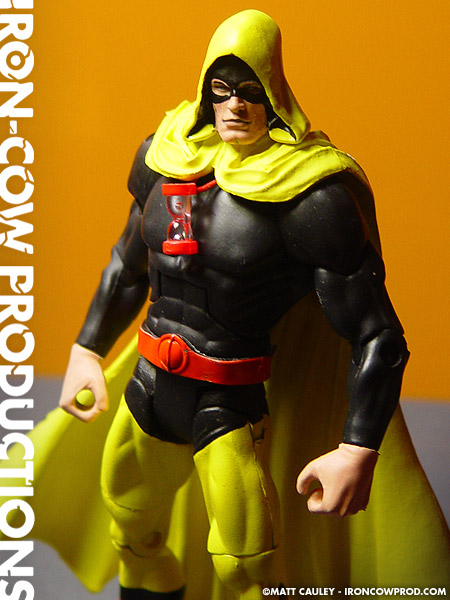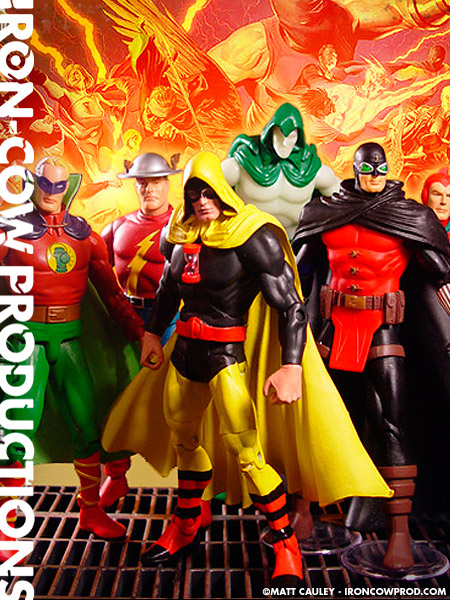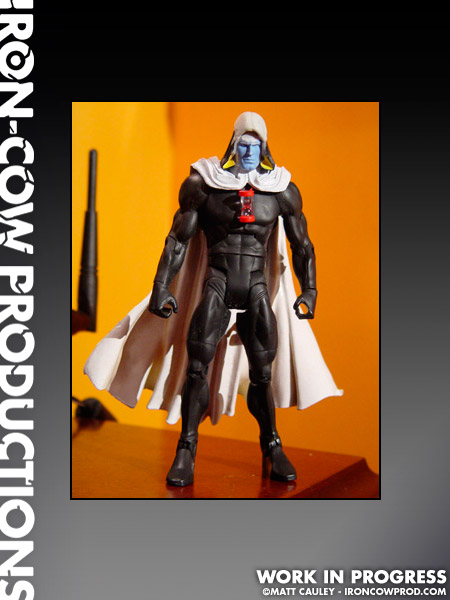 Scientist Rex Tyler, raised in upstate New York, developed an affinity for chemistry, particularly biochemistry. Working his way through college, he landed a job researching vitamins and hormone supplements at Bannermain Chemical. A series of discoveries and accidents led him to the "miraculous vitamin" Miraclo. He found that concentrated doses of that "vitamin" given to test mice increased their strength and vitality several times that of normal. After taking a dose himself, Rex found he could have superhuman strength and speed for the hour that vitamin's effects lasted, before returning to human levels.
The Golden Age Hourman custom figure originally began as a DCUC Black Manta. I popped off Manta's helmet and neck guard, and added in a replacement head from a DCUC Superman Blue. The cape is taken from a DC Direct JSA Modern Hourman figure, along with his hourglass accessory and part of the costume's hood. Hourman's belt is one originally featured on a DC Direct Golden Age Hourman (big surprise there!)
Speaking of the belt, I had a leftover DCD Hourman torso that I sliced apart, just above and below the belt itself. I then hollowed out the leftover piece, and trimmed it to fit around the waist of the new custom. The hooded part of the custom was hollowed out as well, and wrapped around a reworked Superman Blue headsculpt. A little Magic Sculpt and a lot of patience allowed me to blend the parts together. The rest of the figure is essentially a repaint.
This version of the Golden Age Hourman is partially inspired by Michael Lark's cover to All Star Comics 80-page Giant. I was curious to see how such a Golden Age character would translate to such a modern-looking body. I must say, I'm pretty happy with the results!
Created Summer 2008
Featured in Action Figure Insider's DCUC Custom Showcase