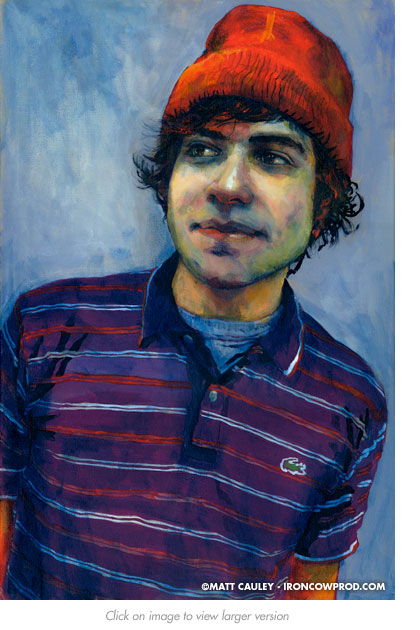 The Big Heads portrait series focuses on capturing a moment in time for any particular subject. As I work with the model, I want them to feel as if they are in mid-conversation with me, but have become momentarily distracted by something *just* out of the corner of their eye. The more their focus shifts to some random spot on the wall, the more their imagination then takes over. A relaxed concentration takes over, and their face conveys an appearance of daydream wonder. It is this moment I try to capture on canvas.
The settings are sparse, with the face conveying the bulk of the story. In the end, I hope the viewer brings their own interpretation to each painting, creating a new and unique story each time the work is viewed.
Hansel is just pure joy. There is a certain innocence about him, and he is always enthusiastic. It is tempting to me to focus on the darker mysterious aspects of my male models. Hansel was an interesting challenge to capture his uplifting spirit. Even on the rough days, I can count on Hansel to not only cheer me up, but inspire me as well.
Hansel
Acrylic on canvas,
20 x 30 inches,
Painted 2008 by Matt Cauley