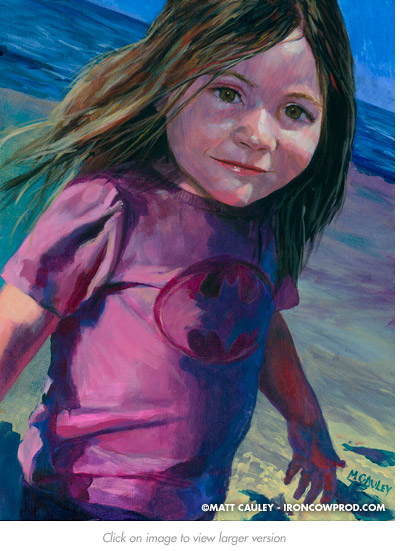 This painting was commissioned in exchange for some design work I was in need of. I have always been a little hesitant of painting children, mainly because it doesn't take much for a child to look unnaturally evil. Simply having too many teeth showing or too big a smile and all of a sudden you turn what was supposed to be a sweet angelic image into something dark and uncomfortable.
Still, Joe had gone above and beyond for me, and I wanted to not only repay him, but to prove to myself that I could use my artistic style in a way that would do justice to the subject. Plus it was an interesting challenge.
Working from several of the client's own photographs, I took on the project and ended up having a blast with the project. I was fortunate enough to have some amazing photos to work from, and it didn't hurt that the subject totally lights up the camera.
Here she is with the finished project:

Special thanks to Joe and Greta for allowing me this wonderful opportunity.
Greta
Acrylic on board
14 x 18 inches
Painted 2012 by Matt Cauley