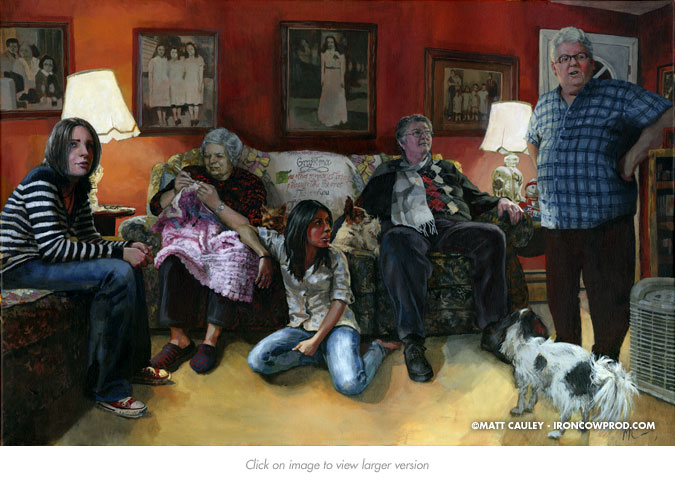 This project is one very dear to my heart.
A few years back, Magda had the fortune to have Florence as one of her patients. Florence was in her eighties, and is easily one of the most impressive people I've ever had the opportunity to meet. She was funny, world-traveled, tech-savvy, and just a genuinely kind and warm person. The same can be said for her extended family. They are all kind and outgoing, but also quirky and amazing in their own unique ways. There was never a dull moment any time they invited us over.
Eventually Florence passed on back in 2010, and shortly thereafter her daughter Sue approached me to see if she might commission a portrait of her departed mother. I was deeply touched by her asking, but admittedly I had concerns regarding the logistics of such a project. Though there were a substantial amount of personal photos available, I prefer not to work from snapshots for a variety of reasons. In this case, translating a 1″ tall face in an old photo into a full-blown painting seemed daunting. The last thing I wanted was to deliver a painting that didn't live up to Sue's expectations.
After batting around a few ideas, I asked Sue if we could proceed with an alternate, expanded approach. Since Florence was so well-loved by her family, as well as being constantly surrounded by them, it made sense for me to include the extended family in the painting as well. We began a photoshoot in November of 2010, with my wife sitting in for one of the granddaughters who was away at school, and Sue posing as both herself and as a stand-in for her mom, based off a small but charming photo we had found. This would allow me enough visual reference to fill in any blanks that might be missing from the original tiny photo. The following month, I went back for a few reshoots, as well as to photograph the granddaughter who had been away. With all of the reference photos together, I was ready to dive into the painting.
The painting itself was pretty straightforward, though I was surprised how complicated it became to paint. Any color decisions on one figure needed to relate to all of the other characters shown in the piece. It took several months to complete, and I'm overall very pleased with how this turned out. I did eventually abandon an ideas I had for large scale plants and other items in the foreground; this would have shifted the family to the mid-ground, and would created even more depth to the painting. In the end, though, it felt an unnecessary addition, and I wanted to deliver the painting for Christmas of 2011.
My many thanks to Sue and her family for sharing this opportunity with me, and to Florence, who inspired us all…
Florence with Family
Mixed Media Acrylics on Canvas
24 x 36 inches
Painted 2011 by Matt Cauley
Below are some photos of the painting in development to showcase the progress: