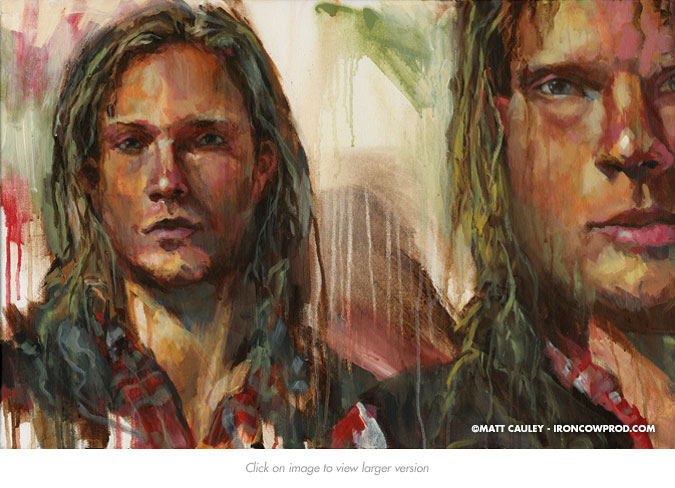 Water is vital for life. Water is in continuous motion. Water cycles through evaporation, condensation, precipitation. Water heals. Water… erodes.
Water is an experimental series of paintings. The human narrative is still there, but the subjects are now interconnected with this additional elemental force. As paint is applied to the canvas, the water will deteriorate that same paint and wash it away. Colors bleed, the subjects are obscured, and the water brings an extension of emotion. As with all my works, I ask the viewer to bring their own interpretation to each painting, and create a new and unique story each time the work is viewed.
Ezra was another experiment where I focused less on capturing a likeness, and more on simply having fun with the paint. Initially, there was only a single "Ezra" in the painting. I felt the piece was looking a bit bland, though, so I added in a second Ezra the following week. Since the likeness wasn't precise in either one, the two figures end up looking related, possibly brothers, but perhaps not the same individual.
I kept thinking of the band Oasis during the painting, though only in what might be going on in the minds of these two oh-so-dreamy rocker types.
Ezra
Acrylic on canvas
20 x 30 inches
Painted 2015 by Matt Cauley
See below for a full gallery of the In-Progress Painting: