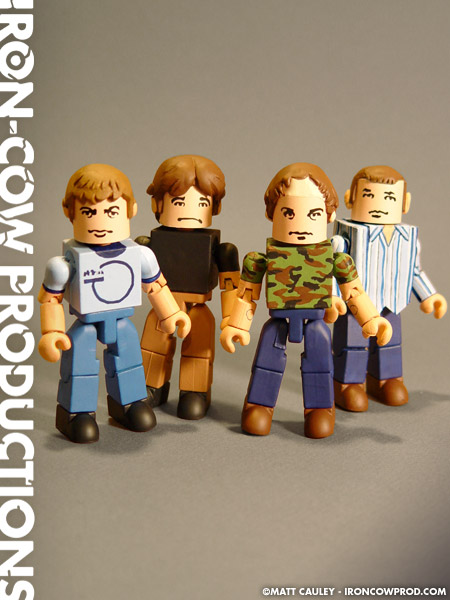 Death Cab for Cutie, Ben Gibbard (guitars, keyboards, vox), Nick Harmer (bass), Jason McGerr (drums), and Chris Walla (guitars, keyboards), presents a polished version of the heartstring-tugging formula that has earned the Washington state quartet its cultish following: melodic, melancholy songs about feeling both smart and confused, hopelessly romantic but wary of love. A fav among the critics and the fans, Death Cab make a fine addition to any shelf, whether through music or their toys.
For the most part, these guys are repaints with new hair accessories sculpted in Kneadatite. The only exception is the guy on the far right (Chris, I believe). His torso features a new shirt accessory made out of vinyl.
Death Cab for Cutie have seen these figures and were ecstatic with the results. Iron-Cow Prod. is in talks with them currently to carry the line a bit further. Who knows? Some day you might just see these hanging on the pegs at your nearby Toys R' Us, but for now they're most likely going to be hanging out with the band for awhile.
Created Fall 2003