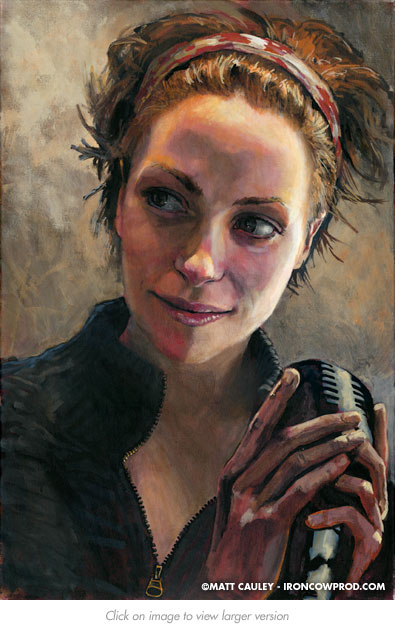 The Big Heads portrait series focuses on capturing a moment in time for any particular subject. As I work with the model, I want them to feel as if they are in mid-conversation with me, but have become momentarily distracted by something *just* out of the corner of their eye. The more their focus shifts to some random spot on the wall, the more their imagination then takes over. A relaxed concentration takes over, and their face conveys an appearance of daydream wonder. It is this moment I try to capture on canvas.
The settings are sparse, with the face conveying the bulk of the story. In the end, I hope the viewer brings their own interpretation to each painting, creating a new and unique story each time the work is viewed.
Danielle is an artist trapped in Corporate America. She has facial features that are so precise it makes me want to feature her repeatedly as a subject, and she is a total trooper when it comes to posing. Little-known to her coworkers, she enjoys lounge singing in her spare time, which isn't nearly often enough. This is something that always surprises those that work with her.
Danielle
Acrylic on canvas,
20 x 30 inches,
Painted 2008 by Matt Cauley