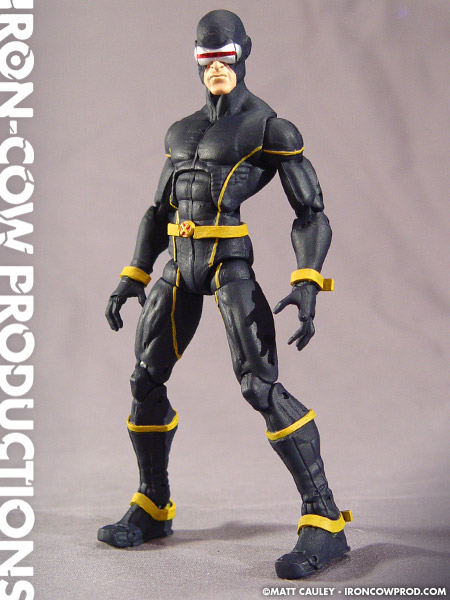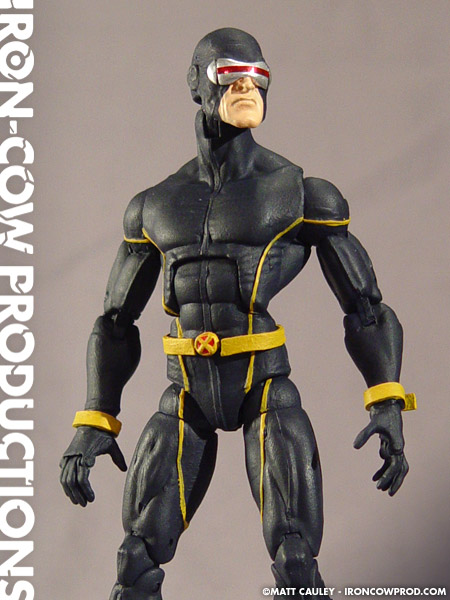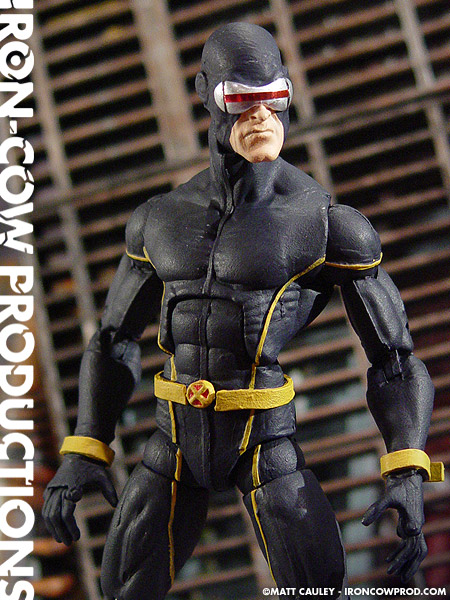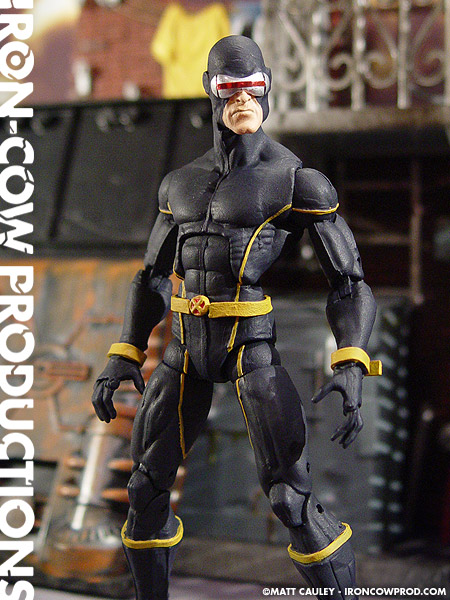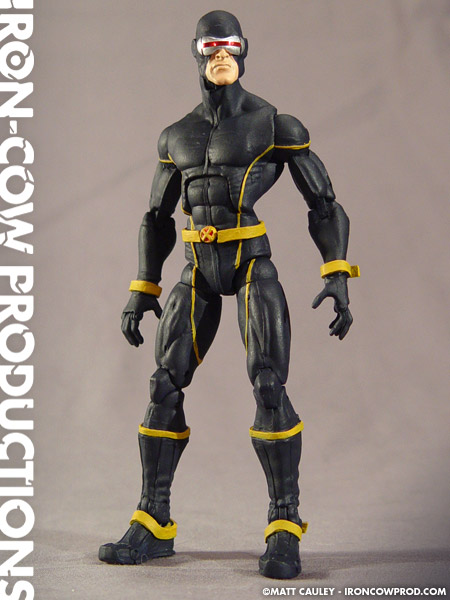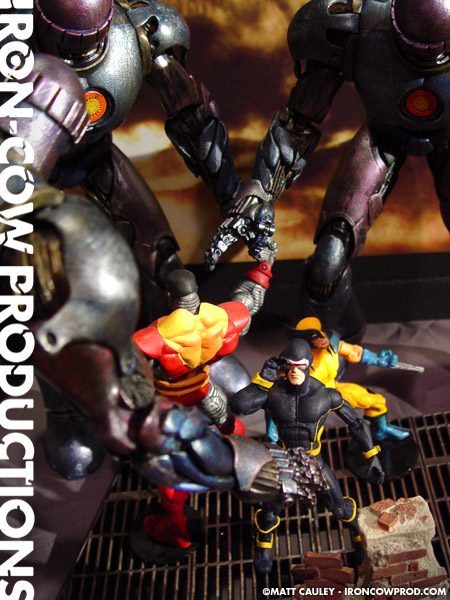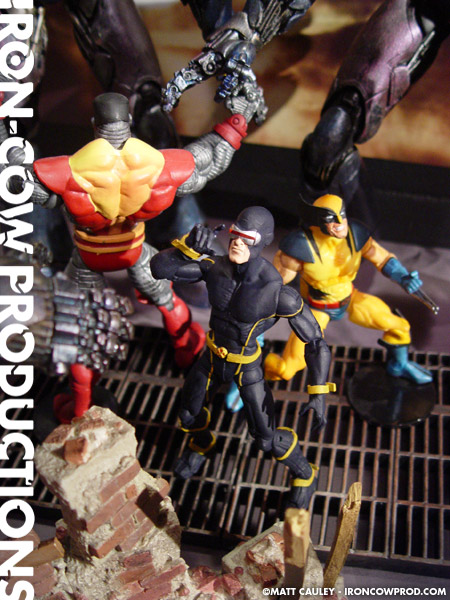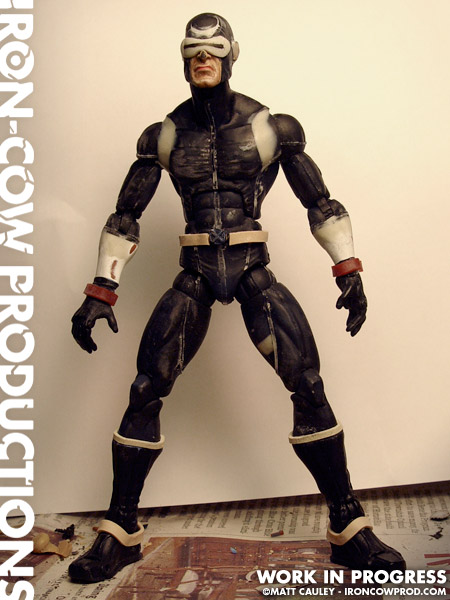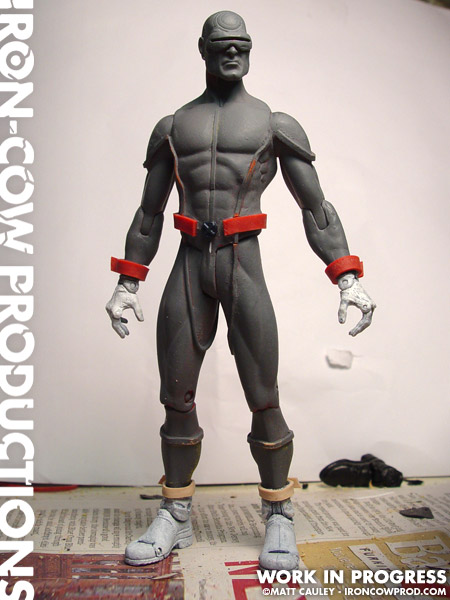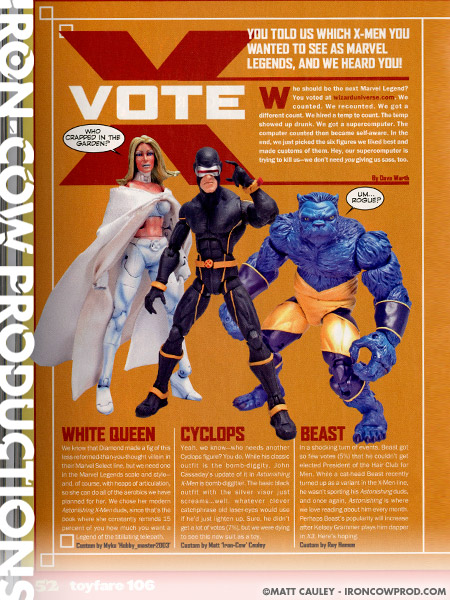 A few years back, TOYFARE MAGAZINE ran an online poll asking visitors to vote as to which X-Men characters they wanted to see as Marvel Legends. I was then asked by Managing Editor Adam Tracey to contribute an Astonishing X-Men Cyclops figure to the article.
Being an artist-specific junkie myself, I really wanted the figure to match the artwork of John Cassaday as much as possible. I felt that the DC Direct Flash figure matched the artwork near perfectly. Adam brought up a good point, though, that since the article would be targeting the Marvel Legends figure line, I needed to go back and revise the figure using exclusive Marvel Legends parts. With that in mind, I came up with a reworked Cyclops, this time using the Marvel Legends BULLSYEYE figure as a base.
The Bullseye gloves needed to be replaced, so I spliced in some forearms from a Marvel Legends Angel. The boots came from a Mister Fantastic figure from the FF Movie line. Rubber bands were used to make most of the straps, and the visor and other details were created using Magic Sculpt.
The element I am most proud of, though, has to be the ruby quartz lens itself. That came from a metallic red Christmas bow. I glued it in place on the visor, rather than sculpting a recessed lens. Due to the nature of the material, it captures the light perfectly, producing brilliant reds, burgundies, whites… all depending on the angle of the light hitting it. I'm extremely pleased with how that part turned out.
Thanks again to the guys at ToyFare for asking me to participate in such a fun project. Be sure to pick up issue #106 to see the whole article, including the amazing contributions from Myke 'Hobby_master2003', Ray Hamon, and Leon 'Darthleon' Arseneau.
Created Spring 2006
Featured in TOYFARE MAGAZINE, Issue #106, June 2006