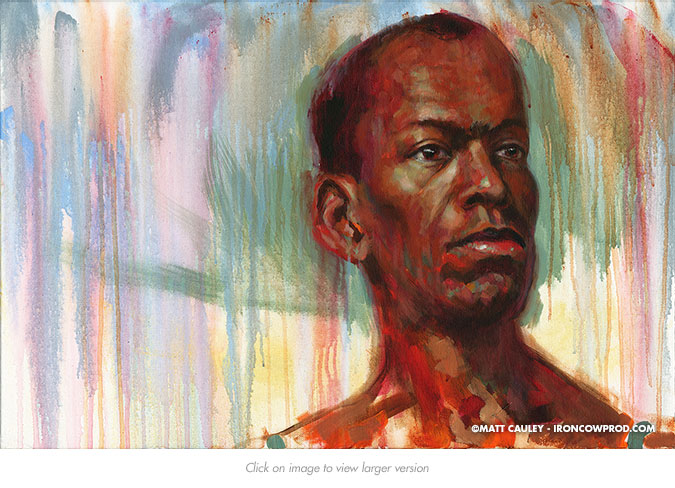 Water is vital for life. Water is in continuous motion. Water cycles through evaporation, condensation, precipitation. Water heals. Water… erodes.
Water is an experimental series of paintings. The human narrative is still there, but the subjects are now interconnected with this additional elemental force. As paint is applied to the canvas, the water will deteriorate that same paint and wash it away. Colors bleed, the subjects are obscured, and the water brings an extension of emotion. As with all my works, I ask the viewer to bring their own interpretation to each painting, and create a new and unique story each time the work is viewed.
With Blane II, I began experimenting with how water might erode the paint, yet sculpt a portrait at the same time. It was a bit of a push-pull effect, something I was still learning at this stage. Though this was a quick 1-Day session, I am pleased with the results. I definitely learned a lot through this process.
This was actually my second opportunity to work with Blane. He is easily one of the most vibrant people I've ever met. Joyful, intelligent, and commanding. An absolute pleasure to work with.
Blane II
Acrylic on canvas
20 x 30 inches
Painted 2015 by Matt Cauley
See below for a full gallery of the In-Progress Painting: