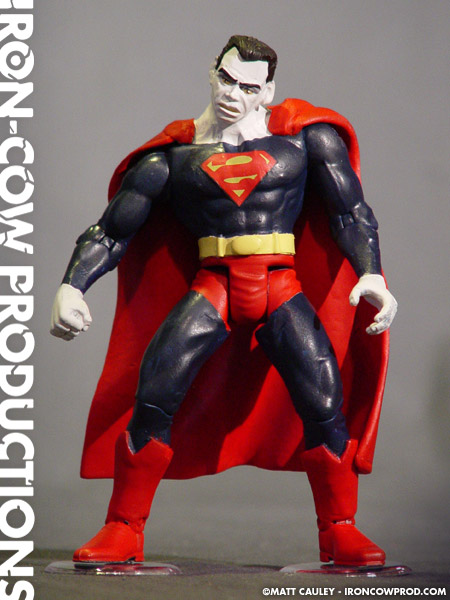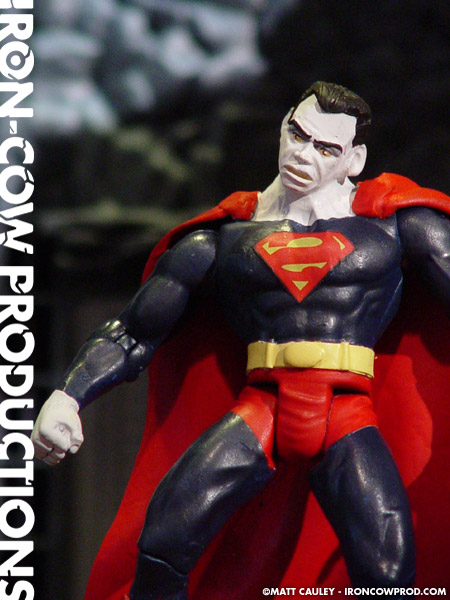 One of my favorite pastimes is purchasing random figures for dirt-cheap. One time I happened to be out shopping when I came across a Hollywood Hogan Wrestling figure at K-B Toys. It happened to be on clearance for $2.99 and the figure looked to be in style with DC Direct. The only problem was I wasn't sure what use I had for it. Anyway, inspiration soon struck as I was going through my "to do" list. I realized I still needed a Bizarro custom for my Legion of Doom shelf. So, there you have it.
Bizarro's boots are made from Kneadatite while his belt is clear vinyl. The cape is taken from a Modern Age DC Direct Hourman figure. I'm not quite sure where the head came from, but I think it's from a not-so-recent Jimmy "Superfly" Wrestling figure. All but the face itself was sliced away and rebuilt, including the ears.
It's not quite a classic Curt Swan Bizarro custom, and it's more dramatic than the Challenge of the Super Friends Bizarro, but he still fits in nicely with the rest of the super villains. Plus Bizarro still retains his smack-down knee thrust kickin' action for when Toyman gets out of line.
Created Spring 2002
Featured in Lee's Action Figure and Toy Review, Issue #115