As much as I love the Four Horsemen's Work on the new Mattel Batman line, I guess deep down I prefer vinyl capes to cloth ones. The Zipline Batman actually has a great cloth cape, but I was curious to see how he would look reworked a bit.

Step 1: Getting the Cape
To start off, you'll need the cape from an X-Men Evolution Storm figure. I believe these can still be found on eBay for relatively cheap. Anyway, start off by slicing through the mid point on the very front of the cape to remove it. Flip the cape over and you'll find there's a hole in the back of it. I pretty much started cutting maybe a little above the halfway mark of that hole and worked my way out and around to the front. When you get to the front, make sure that little X-logo is totally removed, as well as the collar.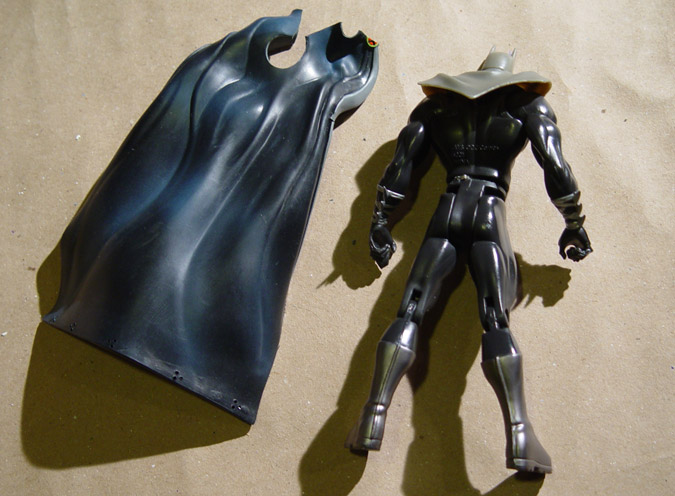 See those wrinkles in the front of the cape? Definitely leave those in place. You will need them later on. The thicker support thing at the bottom of the cape should be completely removed. You won't need it. Just slice along the top edge of the support and it should come off easy.
Anyway, what you want to do is just start cutting a little bit at a time, working your way outward from that hole in the back. Keep test fitting it, wrapping it around the Batman, and you'll see what still needs to be trimmed. At this point you'll basically slip the Storm cape up under the cowl. The nice thing about the Zipline Bats is that once you remove the fabric cape, the rest of the cowl actually covers that big hole in the back of Storm's cape.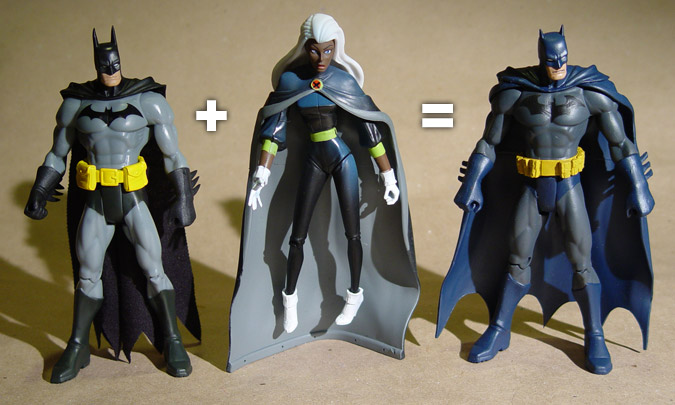 Step 2: Painting the Cape
I'd strongly suggest keeping the cape separate from the figure until the very end. Adding it permanently to the figure is to be the last step.
Mix up some warm water with a little dish soap and scrub the cape to remove any dirt and oils. Prime the cape and figure separately with Krylon's Spray Primer Grey. Once that dries, give them both a coat of Krylon Spray Flat White. The white really helps make the colors you add on later become nice and vibrant. Just remember to do several light coats as opposed to one thick heavy coat.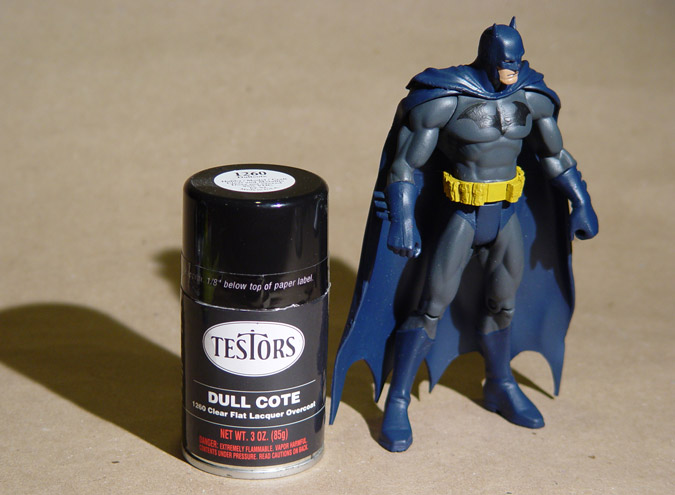 Paint the parts with colors of your choosing. Once it's all done simply slide the cape into position and add a drop or two of Super Glue under the cowl to hold the cape in position. Finish by spraying the entire figure with a few coats of Dull Cote to even out all the lusters.
Hope this helps!